23 July 2019
We're Hiring!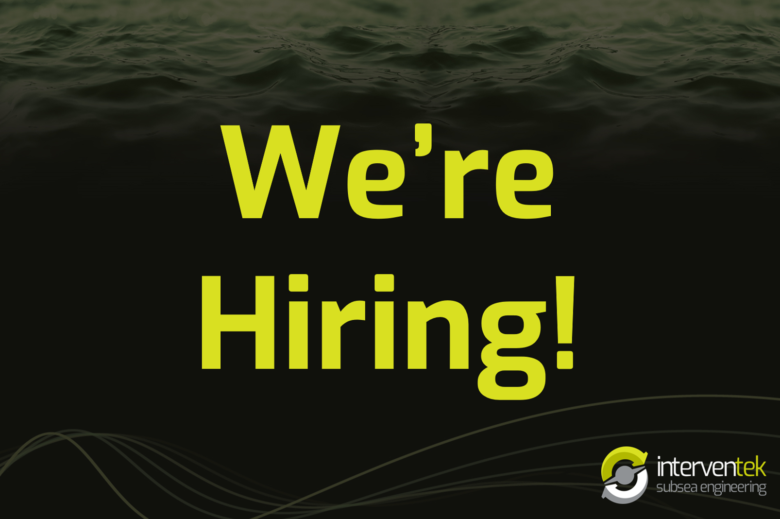 Interventek is an innovative and dynamic company who develop and supply state of the art well control systems to the upstream oil and gas sector. Due to a significant intake of new business, Interventek are seeking to add talented and motivated personnel to our team in Dyce, Aberdeen. This is an opportunity for creative and ambitious candidates to join us at an exciting time in the company's development.
Please submit your CV and a covering letter clearly identifying the position for which you are applying by clicking the appropriate link below.
All positions are on a full time, staff basis. No agencies or third parties.
Subsea Design Engineers
The position will involve participation in design reviews, conceptual 3D modelling, performing calculations, liaising with clients, recording technical meetings, preparing test procedures, supervising equipment testing & preparing technical reports.
Engineering Degree level qualified
Minimum of 3 years' experience designing pressure containing oil and gas equipment
Experience of landing string equipment design, qualification and testing would be beneficial
Familiarity with API 6A, API 17D & API 17G codes
Competent with engineering 3D design and calculation software
Experience with Solidworks & MathCad (Ansys would be an advantage)
Competent in Microsoft Word, Excel and PowerPoint
---
Subsea Designers
We are seeking a dynamic, self-starter for a fast-paced design environment. The position will involve the creation, modification and checking of engineering information such as 3D solid models, manufacturing drawings, change notices, technical animations etc. A good communicator, you will participate in design reviews and liaise with colleagues, external clients and suppliers. As part of a small and versatile team you may occasionally be required prepare reports, procedures, product data books or assist with any similar task within the engineering department.
Relevant technical qualification at HNC/HND level
Skilled and experienced in 3D CAD software (SolidWorks preferred)
Fast and accurate modelling and drafting capabilities
Competent in Microsoft Excel and Word
Minimum of 3 years' experience of oilfield valve equipment design
---
QA Co-ordinator
Working with the engineering, procurement and workshop departments you will review and collate manufacturing documentation and non-conformance reports supplied by vendors to ensure conformance with company requirements. You may also be required to conduct supplier audits and reviews. A process minded personality, you will have an organised approach to your tasks and be able to manage multiple activities concurrently. You will have an eye for detail and a persistent demeanour to ensure ongoing issues reach a conclusion.
Management (compilation and control) of quality assurance data
Familiarity with component traceability principles
Familiarity with Manufacturing Record Book (MRB) compilation
Experienced with PDF creation software
Familiarity with ERP systems
---
Project Engineers
We are seeking an accomplished multi-tasker with an organised disposition who can manage multiple projects. The position will involve the planning and co-ordination of all activities relating to the design, procurement, qualification and delivery of new valve designs. You will liaise extensively with Interventek management, procurement, engineering and workshop departments and co-ordinate their activities to ensure optimum project progress. Additionally you will engage with the external clients to represent the company and project.
Relevant technical qualification
Familiarity with oilfield valve development processes
Excellent written and verbal communication skills
Fully competent in the use of Microsoft Project or other scheduling software
Chair and minute project review meetings
Creation of progress reports
Familiarity with API 6A, API 17D & API 17G codes would be an advantage
---
Purchasing Co-ordinator
The organisation will soon be implementing an ERP database system, and this role will be a key position both to oversee the transfer of data and also the ongoing management, training and cleansing of the database. You will work closely with the engineering department, project managers and accounts personnel to implement the procurement process for complex, bespoke oilfield components. This will involve working with suppliers to obtain quotations, creating and placing purchase orders, monitoring & expediting order progress and reporting of procurement status. We are seeking a bright, dynamic team player with excellent communication and interpersonal skills who can run multiple orders over several projects concurrently. The following attributes are essential:
Good working knowledge of MS Office – Word and Excel
Demonstrate accuracy
Some knowledge of engineering manufacturing processes would be an advantage
Work with discretion and confidentiality
Professional approach to tasks
Ability to prioritise workload
Proven track record working in a similar administrative support role in Oil and Gas
---
Office & Administrative Assistant
We are seeking an experienced administrator. The successful candidate will have the ability to work in a team environment and have a conscientious, positive and enthusiastic approach to work, maintaining good working relationships with colleagues, clients, suppliers and visitors. Excellent time management and organisation skills are a must along with excellent demonstrable written and verbal communication skills. A broad variety of general administrative tasks are included in this role, including the following:
Microsoft Outlook, Word and Excel skills are essential
Professionally greeting customers and visitors at reception
Manning main switchboard, ensuring to answer the phone in a warm and friendly manner, screening callers and thereafter directing calls to appropriate person, taking messages if necessary
Distribution of mail within the office and arrangement of all postal/courier requirements
Filing and maintaining of documents/records, photocopying/scanning, organisation of travel arrangements, co-ordination of attendances at conferences
Scheduling of meetings and appointments, booking and timetabling of meeting rooms
Experience of data entry of Supplier Invoices onto Sage 50cloud (or other) Accounts system would be an advantage
Must have the ability to enter accurate data with a high level of attention to detail
Confidentiality and discretion are an imperative part of this role
Ensuring all stationery, printer/photocopier supplies etc are well stocked at all times