10 May 2023
Interventek set to deliver the industry's first 20,000psi open-water well intervention valves, in a major deal with Trendsetter.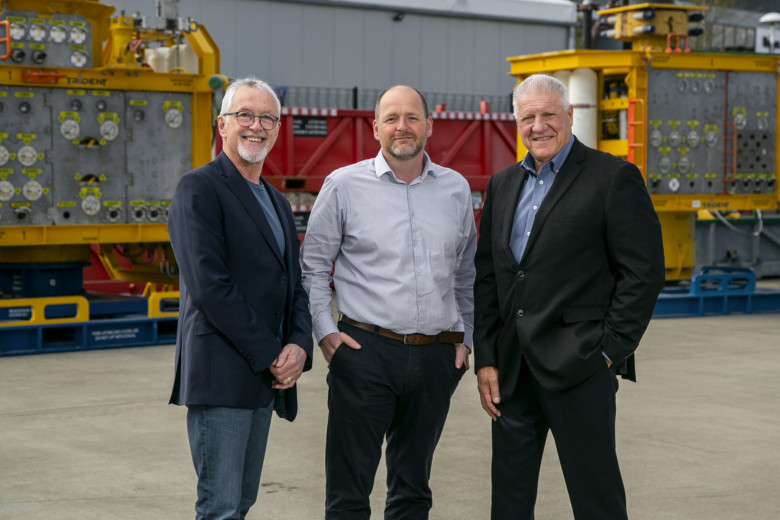 (L-R) Tony Kitchener, Sales and Marketing Director, Interventek; John Sangster, Technical Director, Interventek and Dennis Lingo, Director of Business Development at Trendsetter Engineering, Inc. pictured in front of the TRIDENT II 15K Intervention System being mobilised in the UK sector.
Aberdeen-based, subsea intervention technology specialist, Interventek has agreed a deal to supply a complete set of fully qualified 20,000psi open-water well intervention shear and seal valves to Trendsetter Engineering, Inc based in Houston. The agreement allows Trendsetter exclusive global rights to deploy the 20K, 5-1/8" open-water valves for the next five years, with the first set to be delivered later this year as part of a mid-seven-figure first order.
These ground-breaking 20K Revolution valves are designed as a compact, modular addition for lightweight subsea intervention systems. They will provide the safety-critical well control function within Trendsetter's new 20K TRIDENT Subsea Intervention System, which is scheduled for the first field operations on an upcoming high pressure, high temperature (HPHT) subsea completion and intervention campaign in the Gulf of Mexico.
Interventek has previously supplied Trendsetter with several 15,000psi Open-Water Revolution Valves, which have been successfully deployed on multiple campaigns using their 15K TRIDENT Intervention Systems.
The development of this new technology builds on Interventek's strong innovation track-record, having introduced the world's first 20K rated in-riser safety valve in 2017. The company describes the open-water variant as a natural industry progression, as both valves were developed to support advancement into deep and ultra-deep water, high-pressure environments.
"Our new 20K Open Water Revolution Valve is leading the way in HPHT subsea well intervention safety," states Tony Kitchener, Sales and Marketing Director at Interventek. "Qualified to rigorous API-17G and API 17TR8 standards, the valve maintains the superior cutting and resilient sealing capability that our unique technology is known for, delivering a future-proof solution for today's operators. Our Revolution design is flexible and scalable so, with Trendsetter's valuable and long-standing collaboration, it was natural for us to push ahead together to deliver the world's first open-water HPHT intervention solution."
Mike Cargol, Vice President – Services at Trendsetter said: "Interventek's compact and high-performing Revolution valve is the ideal choice for our range of lightweight and modular TRIDENT intervention systems. This technology is the key to achieving a reliable HPHT solution with around a sixty percent size and weight saving compared to other offerings. The result is a robust system which can be reconfigured to support hydraulic, riserless or open-water risered interventions and mobilized quickly on a broad range of vessels with minimal modifications. The bottom line for the operator is enhanced safety, rapid response, increased operational efficiency and reduced cost."
Subsea intervention in an HPHT environment would normally use hydraulic gate valves or rams as a well control solution, but these are slower to operate, much larger and much heavier. Interventek's unique shear and seal mechanism uses separate internal components and rotary actuators to reliably shear through a range of wireline or coil tubing conveyance systems and safely seal the wellbore in a single operation. This also allows size and weight reduction of the assembly, while delivering an outstanding pressure rating.
Revolution valves can be supplied in a range of sizes, with single, dual or triple cavities and interfaces for annulus access, chemical injection or pressure and temperature monitoring. They can be specified for standard or sour service deployment with high strength, corrosion resistant alloys and resilient seals. External rotary actuators provide a superior cutting force and hydraulics are kept separate from the wellbore. A compact, lightweight and universal configuration allows integration with a wide range of systems. The valves are quick to manufacture and provide easy access to components for maintenance and redress, dramatically reducing the cost of ownership by around 50%.