25 August 2016
Interventek Awards Sole License Agreement to Hunting for New Surface Well Intervention Valve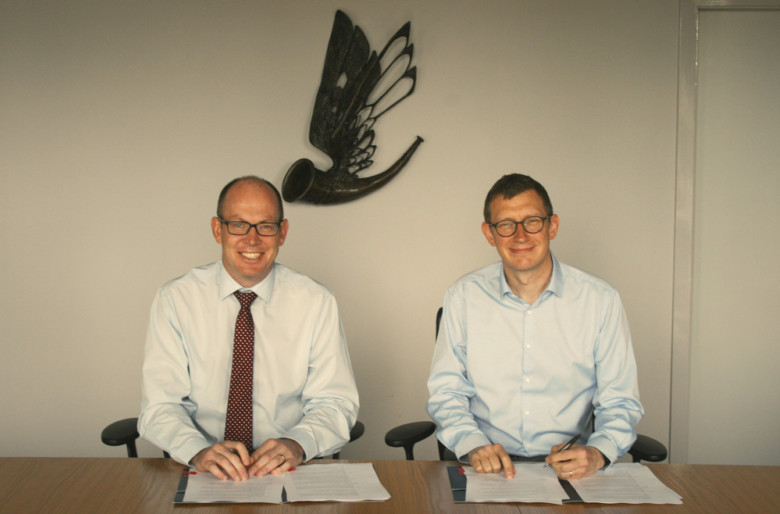 Bruce Ferguson, Managing Director for Hunting Group Europe and Africa (pictured left) with Stuart Ferguson, Chairman of Interventek Subsea Engineering signing the license agreement.
Interventek Subsea Engineering has awarded a sole license for its new surface well intervention valve to international energy services specialist, Hunting. The product will join Hunting's pressure control equipment portfolio and will be called the Ezi-Shear Seal.
The unique valve incorporates Interventek's ground breaking 'Revolution' technology and provides a compact, reliable and fast mechanism for the shearing of slickline, wireline and coiled tubing to isolate or seal the wellbore. It also offers a cutting and sealing capability for standard, offshore or high-pressure applications where an additional level of pressure barrier contingency is required.
The compact design allows for deployment through a standard offshore intervention hatch cover, negating the need to remove main hatch covers. Its use also reduces heavy lifting and potential shutting in of adjacent producing wells.
Stuart Ferguson, Chairman at Interventek Subsea Engineering, said: "We are delighted to award Hunting the sole license for our surface well intervention valve. Hunting is the ideal company to bring this product to market with its global presence, commitment to innovation and dynamic performance improvement philosophy. This unique product is the only surface valve in our range and incorporates our next generation shear and seal Revolution technology, offering multiple advantages over rival products. We look forward to seeing the industry as a whole benefit from both parties' forward thinking, innovation and collaboration".
Alan Reid, Managing Director for Hunting Well Intervention, said: "Hunting is delighted to bring the new Ezi-Shear Seal valve to market; an addition to our portfolio that we believe will deliver improved operational safety, reliability and well integrity, three vital aspects of any offshore activity.
"We believe there is a gap in the market for a product of this type with its cutting and sealing capabilities far outweighing those of other equipment currently available. Interest in the valve has already been high and we're looking forward to helping this increase in coming weeks.
"We're also thrilled to have worked closely with the team at Interventek in making this deal happen at a time when successful partnership working has taken on even greater importance. There are so many benefits that working closely with like-minded companies can bring and it is an avenue that we will continue to develop in the future."