18 March 2019
Interventek Bolsters Business Growth with Investment in New Staff and Facilities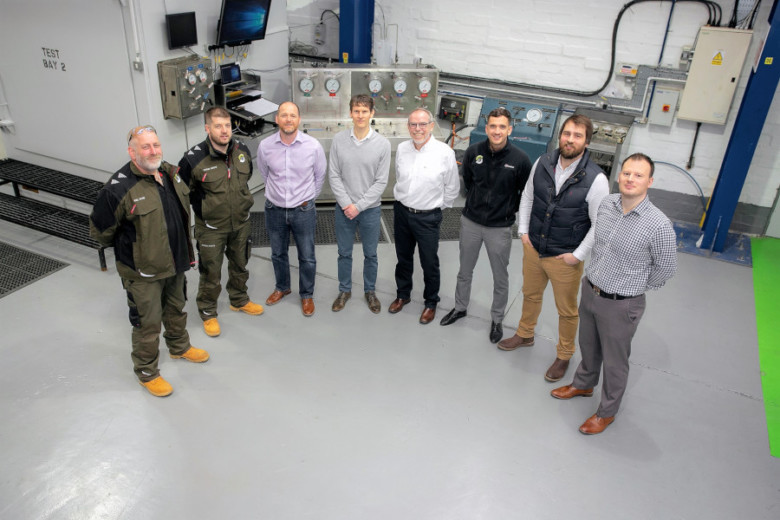 Interventek's team of new staff pictured with directors John Sangster and Gavin Cowie. L-R: Will Evans, workshop manager; Stephen Christie, workshop technician; John Sangster, technical director; Chris Mutch, project engineer; Gavin Cowie, managing director; Euan Mitchell, design engineer; Fraser Gray, design engineer; Steven Burnett, design engineer.
Interventek has committed investment in the region of £750,000 to support business growth in 2019 and beyond, with the addition of six staff and a new technology development and test centre.
The investment follows recent business wins for the supply of Interventek's Revolution shear and seal safety valve to support well intervention projects in the US and Caspian for a range of customers including an international oil operator.
"Established five years ago, Interventek has now emerged from a focused phase of R&D into an exciting period of commercial growth. Our core technology has achieved industry qualification and is already well proven in the field as part of a surface intervention and subsea in-riser landing string application and we are seeing increasing customer interest with a number of potential projects in the pipeline" explained Gavin Cowie, managing director at Interventek.
"With the global market for our subsea technology worth in the region of half a billion pounds and the need for safer and more cost effective well intervention rising, this is a prime time for our business to be positioned to work with all types of partners from global IOCs to dynamic independents and forward-thinking service providers. Our new team members, with their incredibly strong design and engineering skillset, are a valuable asset to the company. They will help to ensure we are fully prepared for the future as we look to roll-out our portfolio of shear-seal valve designs as well as pursue our ambition for the delivery of complete subsea intervention safety systems. These include a landing string system, an open water riserless intervention system and well abandonment tree saver system."
Interventek's workshop has been expanded to create a technology development and test centre with a 5,000 square foot space kitted out with an overhead crane and the latest pressure and temperature test equipment including two pressure test bays, HPHT pressure test pumps, a hyperbaric test cell, a purpose built flow loop, a thermal cell for elevated temperature testing, an advanced data acquisition system with calibrated pressure transducers and metrological instruments for development diagnostics.
Interventek's patented and award-winning Revolution valve technology is fundamentally different to other shear and seal safety valves because it maintains distinct separation between its cutting and sealing elements. This means that any intervention media, such as coiled tubing or braided cable, can be cut without compromise to the seal. Only one device is required to provide secure well containment unlike traditional ball valve arrangements. The valve uses resilient primary sealing rather than elastomer components, which enables safe well intervention under more challenging conditions such as HPHT scenarios. Its ultra-compact nature with external rotary actuators allows the valve to be installed below the shear rams on small BOPs, meaning operators do not need to rely on the shear rams as a principle line of defence, which are more difficult and costly to remediate after activation.
The company's original 15,000 psi working pressure in-riser landing string Revolution valve is currently in operation in the Gulf of Mexico. Interventek has also developed the world's first 20k rated in-riser shear and seal safety valve and more recently added another industry first to its portfolio with the addition of the Revolution PowerPlus. This has a fast-acting gas accumulator power source integral to the valve itself, close to the cutting and sealing mechanism. It increases the power and speed of the valve's functionality and provides a failsafe close mechanism, triggered in the event of an emergency.
Due to the ground up design engineering employed in its development, Interventek can deliver its Revolution valves for around 50% of the cost of competitor solutions.