3 April 2017
Interventek Launches New Well Control Safety Valve for Light Well Interventions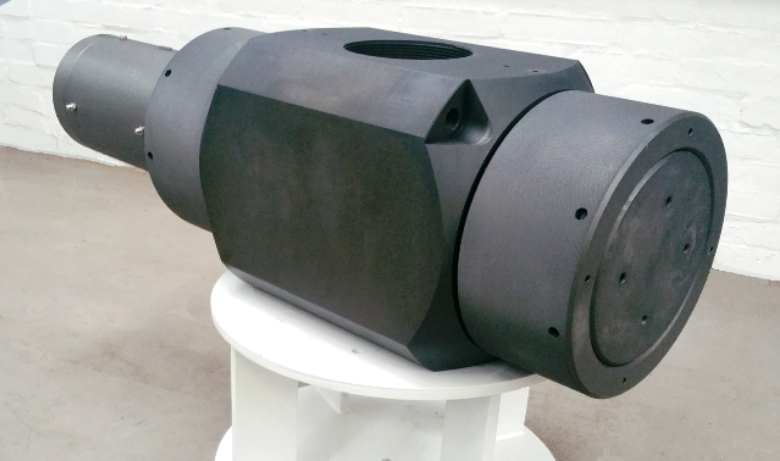 Open Water Well Control Valve body in the workshop.
Aberdeen based Interventek Subsea Engineering is launching a new Open Water Well Control Valve at the forthcoming Offshore Technology Conference (OTC) in Houston (1st-4th May 2017). Designed for Light Well Intervention (LWI) and workover operations, including large bore, deep water and HPHT applications, this shear and seal valve brings a new class of well control equipment to the market.
Utilising a newly developed, linear form of their patented Revolution technology, Interventek's open water well control valve provides critical safety protection during LWI, particularly in emergency disconnect situations. It can cut through obstructions and immediately provide bi-directional sealing protection at full working pressure. The use of resilient seals for fluid containment avoids the risk of rapid gas decompression. The uniquely separated cutting and sealing mechanisms within the valve means that, unlike other products, such as gate valves, its sealing surfaces are protected during cutting.
John Sangster, Technical Director at Interventek explained: "This new valve has been designed to exceed the standard cutting capability of wireline/ coiled tubing class shear and seal products. It is able to shear slickline, braided cable, coiled tubing and notably 2" sinker bar. This means that Interventek's valve can be used in LWI operations where only wireline toolstrings are utilised and where employing higher cutting, heavier and more costly safety head equipment would be an unnecessary over specification. This new offering bridges the gap between these two classes of shear and seal products and provides the operator with a more cost effective, versatile and appropriate solution."
Gavin Cowie, Managing Director at Interventek added: "Intervention activity performed through open water from floating vessels can significantly reduce operational costs when compared to the use of a rig and riser based intervention system, often making this the preferred option for maximising productivity from mature assets or for decommissioning operations. To date however, there has been a lack of suitably designed, fit for purpose safety valves that could be incorporated into existing well control packages for this type of operation. Valves must be light-weight and compact enough to be deployed through open water from a floating mono-hull vessel where deck space, derrick height and lift capacity are at a premium, but have the strength and power to cut large obstructions and then reliably seal in the well.
"Interventek's well control valve has been designed with this in mind, keeping weight and size to a minimum and can be up or down graded depending on individual requirements. No other safety valve on the market offers this unique combination of form, function and associated benefits."
Having already successfully brought their surface safety valve and 15k subsea in-riser safety valve to market, the open water well control valve is the third of Interventek's ingenious applications of its patented Revolution technology.
To view an animation of the open water valve in action, please click here, to view a recording of the initial cutting trials, please click here.
Interventek will be exhibiting on stand number 1161 at the Offshore Technology Conference in Houston from 1st-4thMay 2017. Please visit the stand or contact us for more information.