20 April 2017
Interventek launches World's First 20,000psi In-Riser Shear and Seal Safety Valve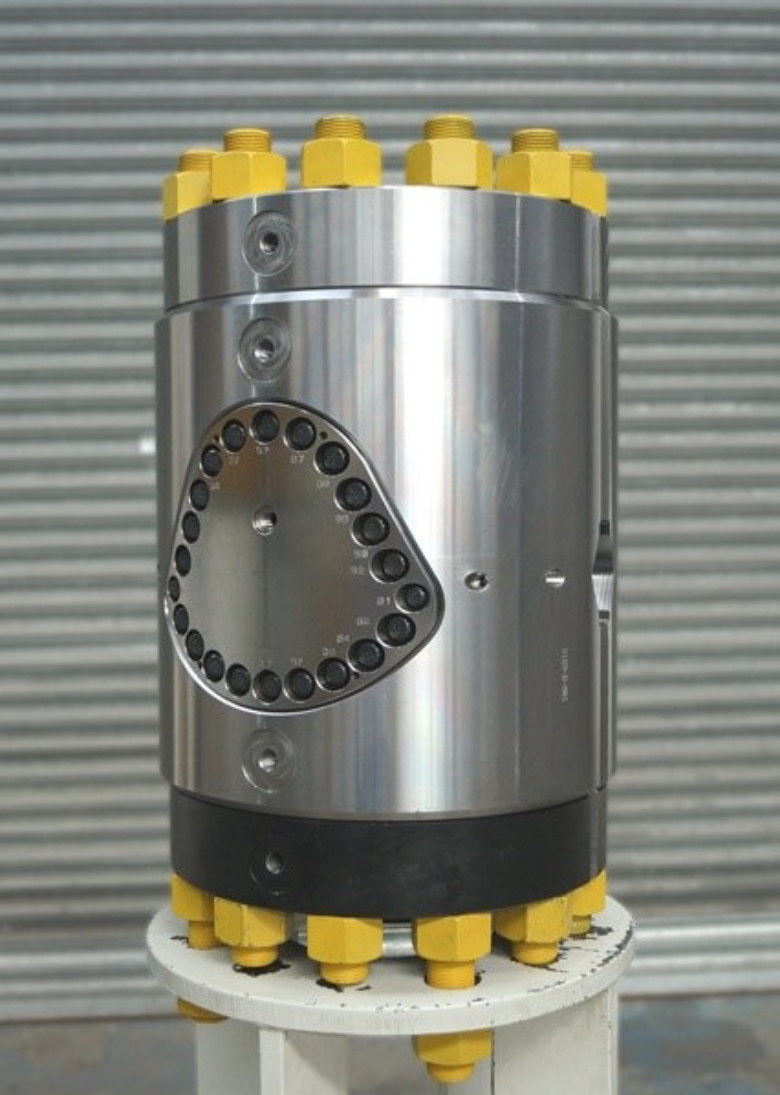 Interventek's 20,000psi in-riser Revolution valve.
Aberdeen-based well intervention technology specialists, Interventek Subsea Engineering, has pushed the boundaries of oil and gas industry capability with the launch of their latest new product, an ultra-high pressure, high temperature (HPHT) version of their Revolution safety valve for in-riser landing string systems.
This new shear and seal valve is able to withstand working pressures of 20,000psi and temperatures up to 350 degrees Fahrenheit. There are currently no other 20K in-riser shear and seal safety valves on the market and the new product line was developed to support the industry as it advances into more challenging HPHT, deep water well environments, particularly in the Gulf of Mexico.
Gavin Cowie, Managing Director at Interventek explained: "Our new 20K in-riser Revolution valve is a natural extension of our uniquely reliable shear and seal technology. The 20K device maintains the superior cutting capability of previous Revolution valves and our unique resilient sealing provides the operator with a future proof, flexible HPHT solution, giving peace of mind as operating conditions become ever more challenging.
"As a young company with a game changing disruptive technology, we are pushing against people's inbuilt preference to choose what they are used to – older, familiar, more conventional technology. But now that we are achieving traction in the market, and our products are proving themselves in the field, we are finding that clients are approaching us to deliver new solutions to industry challenges. Developing the 20K in-riser valve was not only to meet the HPHT need but also to demonstrate how new technology can exceed expectations. Our design is flexible and scalable and doesn't suffer from the shortcomings of other valves so it was easy and natural for us to develop what we believe is a world-first."
The 20K in-riser valve has a 5-1/8" bore size and is able to cut wireline and coiled tubing up to 2" x 0.203", 148ksi tensile strength. It uses Interventek's award-winning Revolution valve technology, providing a step change in performance at a dramatically reduced cost due to a number of unique features.
The Revolution valve is the only wireline / coiled tubing class valve on the market that does not compromise its ability to seal with its shearing action. It uses separate cutting and sealing components so that the seal is never compromised. Resilient seals avoid the use of vulnerable elastomer components for fluid containment, enabling use in HPHT applications. It is easily scaled to meet all well bore sizes, to cut all likely obstructions and its compact size means it is ideally suited to the challenging confines of in-riser interventions. External rotary actuators provide a superior cutting force and hydraulics are kept separate from the wellbore. It is quick to manufacture and provides easy access to components, dramatically reducing the cost of ownership by around 50%. It can surpass endurance testing over many hundreds of cycles and is specifically aimed towards meeting the highly rigorous API 17G industry standards. No other safety valve on the market offers this unique combination of benefits.
Interventek will be showcasing their new 20K Revolution valve, alongside other recent product developments, on stand 1161 at the Offshore Technology Conference in Houston from 1st-4th May 2017. Please visit the OTC stand or contact us for more information.