14 June 2021
Interventek wins repeat business to supply open-water Revolution safety valves to Trendsetter.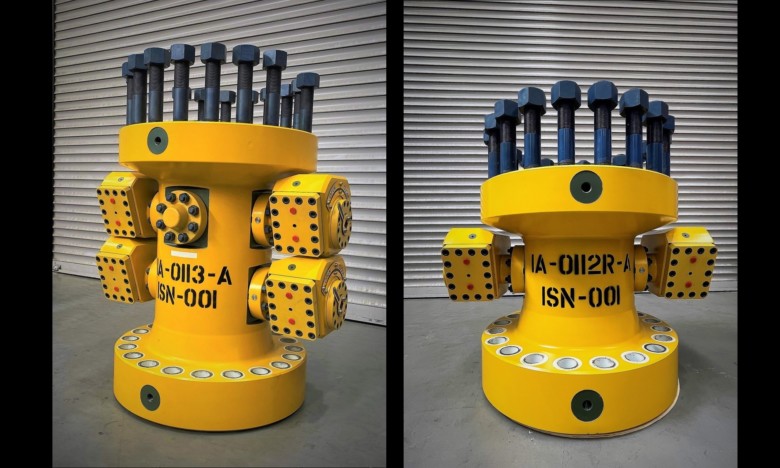 Aberdeen-based, subsea well intervention technology specialist, Interventek has been awarded a repeat order from Trendsetter Engineering in Houston, to supply additional 6-3/8", 15,000psi, open-water Revolution shear-and-seal valves.
The seven-figure contract comes on the back of Interventek supplying an initial set of the advanced subsea shear-and-seal safety valves in 2020, comprising single and dual cavity variants, and successful systems integration testing within Trendsetter's new 15,000psi, TRIDENT Modular Subsea Intervention System. Trendsetter now plans to roll out further systems to service growing demand in the well intervention and subsea completions market.
The Revolution valves to be supplied as part of this contract are specified for sour service deployment, with dynamic valve bore components, utilising high strength, corrosion resistant alloys. They benefit from Interventek's uniquely compact design, which allows integration within more modern, lightweight systems, to enable greater cost and efficiency savings through operational flexibility. The Revolution valves also separate their internal cutting and sealing components for improved performance, whilst meeting rigorous API-17G qualification criteria and being suitable for use in challenging subsea environments.

Mike Cargol, Vice President of Rentals and Services at Trendsetter said: "Trendsetter has worked closely with Interventek to achieve our objective of bringing innovation to intervention. Interventek's compact Revolution valves have proved to be the ideal match for our lightweight and modular Trident systems, enabling us to achieve the goal of delivering HPHT intervention solutions while also realising system size and weight reductions of up to sixty percent when compared to competing systems. The result of this combination is a robust system which can be mobilized rapidly to any geographic region, reconfigured quickly to accommodate hydraulic, riserless light well or open-water risered interventions, and be integrated into a vessel or rig of opportunity with no bespoke modifications. The bottom line is enhanced safety, increased operational efficiency and reduced cost, especially for HPHT applications."

Interventek's open-water Revolution valves use the same shear-and-seal technology as the company's field proven, in-riser safety valves. All products are available in variants to suit a range of system specifications, operational applications and well conditions.
Gavin Cowie, Managing Director at Interventek, said: "Our continuing partnership with Trendsetter is enabling many operators to realise significant efficiency gains in their subsea intervention operations. The compact, versatile design of our Revolution valve technology provides a great advantage for integration across a range of safety systems. It exceeds the highest industry standards and is suitable for open-water, in-riser and even surface applications. Despite challenging times across the industry, demand for our technology continues to grow and we are grateful to be working with such like-minded, forward-thinking innovators as the team at Trendsetter."