14 December 2017
Interventek's World Leading 20K Revolution Valve Passes API-17G Shear and Seal Qualification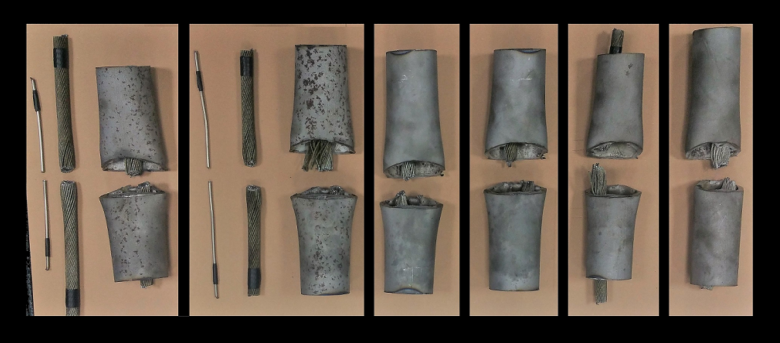 Six sequential sets of cuts sucessfully completed to API-17G specifications by Interventek's 20K In-Riser Revolution Valve
Aberdeen-based well intervention technology specialist, Interventek, has successfully completed the current API-17G specification shear and seal test procedure with their new 20k (20,000psi) subsea in-riser Revolution Valve. The testing conducted fulfilled the requirements for Service Specification Level (SSL) liquid and gas.
Independently witnessed and verified, the trials demonstrated the shear and seal safety valve was able to surpass the challenging demands of the imminent API-17G standards for a wireline/coiled tubing class shear and seal valve. The valve successfully completed six cut sequences comprising slickline, braided cable and coiled tubing with braided cable followed by low and high-pressure liquid and gas seat tests after each sequence. The full test program was completed with no disassembly or redress at any point.
The shear and seal qualification included cuts of the following media samples:
0.125" Slickline.
15/32" Braided Cable.
2.00" OD x 0.175" WT, 110ksi Min. Yield Coiled Tubing.
2.00" OD x 0.203" WT, 130ksi Min. Yield Coiled Tubing.
1.75" OD x 0.203" WT, 100ksi Min. Yield Coiled Tubing.
Click here to view a video of Interventek's 20k in-riser Revolution valve in action during qualification testing.
John Sangster, Technical Director at Interventek explained: "The 5⅛ inch, 20k Revolution Valve is the oil and gas industry's first in-riser shear and seal valve designed for ultra-high pressure, high temperature (HPHT) operations. The Revolution Valve design has proven to be flexible, scalable and retains the robustness required for this class of valve.
The new and rigorous 17G test protocols were conceived to ensure that safety critical equipment is demonstrably fit for purpose. The successful completion of this testing on our 20k valve will result in the provision of a low cost, high performance, enabling technology for subsea well intervention in the most demanding of environments. It now provides operators with a choice and the opportunity to replace sub-optimal devices which cannot demonstrate the same level of performance. Further qualification testing is now planned for Q1 2018 with a view to adding this product to our existing operational portfolio."
The 20k product application was developed earlier this year to support the well intervention industry as it advances into more challenging deep water well environments, particularly in the Gulf of Mexico. It is designed to be able to withstand working pressures of 20,000psi and temperatures up to 350 degrees Fahrenheit. It has a 5⅛ inch bore size and is able to cut wireline and coiled tubing up to 2. inch x 0.203 inch, 130ksi minimum yield strength.
The Revolution valve is the only in-riser wireline/coiled tubing class valve on the market that guarantees sealing after shearing. Unlike comparable technology, it uses separate cutting and sealing actions to prevent damage to the sealing surfaces. Resilient seals avoid the use of vulnerable elastomer materials for primary fluid containment, providing suitability for HPHT applications. It is easily scaled to meet all well bore sizes, to cut all likely obstructions and its compact size means it is ideally suited to the challenging confines of in-riser interventions. External rotary actuators provide a superior application of power and hydraulics are kept separate from the wellbore. It is quick to manufacture and provides easy access to components, dramatically reducing the cost of ownership. It can surpass endurance testing over many hundreds of cycles and is specifically aimed towards meeting the highly rigorous API-17G industry standards. No other safety valve on the market offers this unique combination of benefits in a single device.
In addition to their 15k and 20k in-riser landing string valves, Interventek has developed their Revolution technology for other offshore applications including a light well intervention open water well control valve, a subsea tree saver for well abandonment and a bi-directional ball valve.