22 January 2020
Office Opening and Technology Showcase Event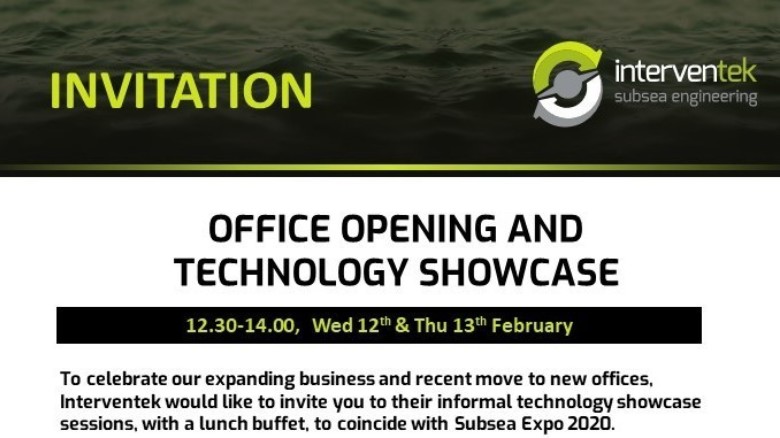 To coincide with Subsea Expo 2020, and to celebrate Interventek's expanding business and relocation to new premises, we are hosting an office opening and technology showcase event on Wednesday 12th and Thursday 13th February from 12.30-14.00. A buffet lunch and refreshments will be provided.
We will have our Revolution in-riser and open water valve technology on display, along with details of our new control and landing string systems that are currently in development. We will be conducting tours of the new facility and a short presentation will include Trendsetter Engineering's new Lightweight Open Water Intervention System, featuring Interventek's Revolution valve. Please click on the official invitation attached.
YOUR PERSONAL INVITE IS AVAILABLE TO DOWNLOAD HERE: Interventek office opening and technology showcase invite
RSVP: This event is open to all and we would be delighted if you and other members of your team would be able to join us. Dedicated shuttle buses will be departing the P&J Live Arena every 15 mins from 12.00 to 13.00 and will return at 14.00.
Please confirm attendee names and any special dietary requirements to: Laura Campbell on LCampbell@interventek.com or enquiries@interventek.com.
We look forward to welcoming you.